1) Visit the sign up page
You can create your free Atfarm account on our sign up page and afterwards access our Atfarm web app in your desktop browser and our Atfarm mobile app on your mobile device.
In your desktop browser, you can access the sign up page here. You can also register from your mobile device. To do so, download our free Atfarm mobile app. Then open the app and click on SIGN UP TO ATFARM.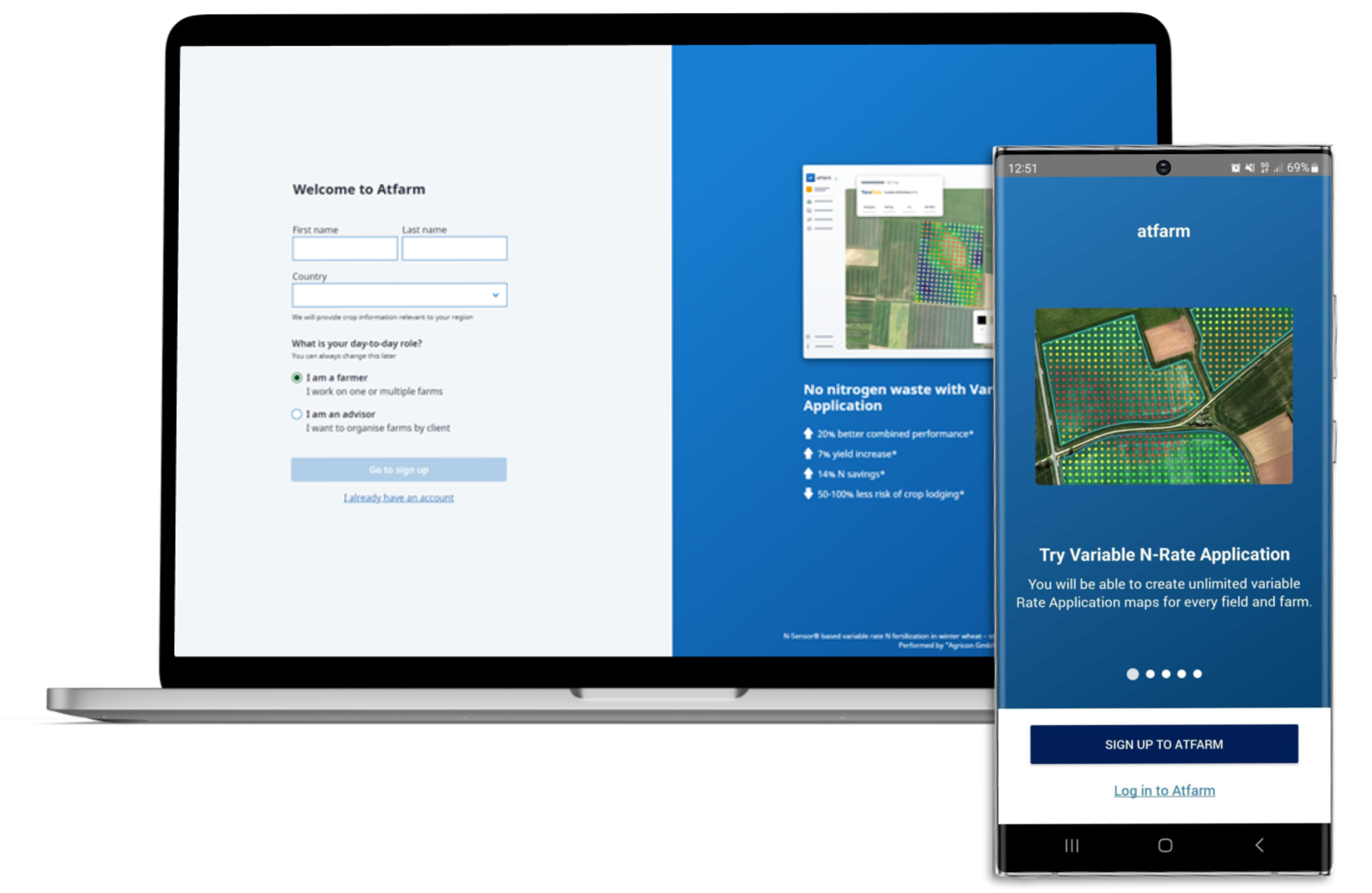 2) Set your account and choose your role
Enter your name and select your country. We need to know your country, as our recommendations are specific to your country and region.
Choose your role: farmer or advisor. You can change your role later at any time as long as you do not have an active subscription. As a farmer, you create your own farms and fields and can invite collaborators to your farms for easy collaboration. As an advisor, you add your clients and map their farms. Your clients create their own farmer account and can view their farms, fields and recommendations. Advisors can also add collaborators to farms.
Click on GO TO SIGN UP.
3) Enter login details and tick the boxes
Enter your email address and set a password. You will use these details to log in to your account in the future. Make sure you enter the email address and password correctly.
If you want us to keep you informed about our products and services by email, tick the COMMUNICATIONS FROM ATFARM box. You can unsubscribe from our newsletters at any time later.
Please read our Yara digital farming terms and confirm that you agree by ticking the TERMS AND CONDITIONS box.
Click on START DIGITAL FARMING.
4) Log in
Your account has successfully been created and you can now log in to your account with your email and password here.
If you chose the farmer role, you can now add your first field to your farm. If you chose the advisor role, you can add your first client.
5) Confirm your account
Once your account has been set up, we will send a verification email to your inbox to verify your email address. Verifying your email address is a requisite to later reset your password in case you forget it. Click on the CONFIRM MY ACCOUNT link in the email to verify your email address.
Read here what to do if you cannot find the verification email.