After adding a field, a satellite maps of the field with a biomass layer on it is displayed.
Three types of biomass maps can be selected to view the in-field variability. Click on the map layer tile in the lower right corner of the field map and choose between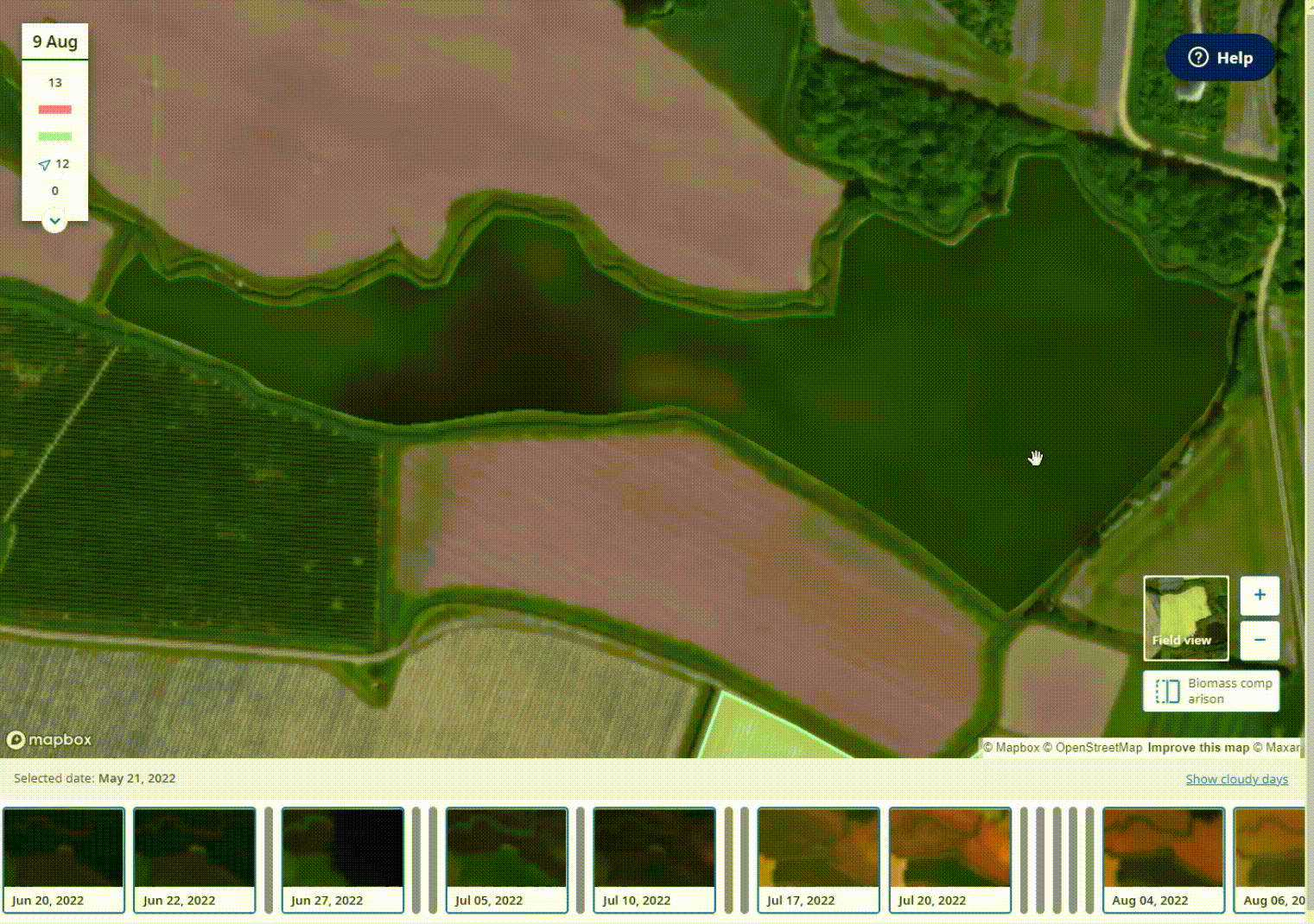 | | |
| --- | --- |
| | Read here which satellite maps can be selected to view the field. |
NDVI (Normalized Difference Vegetation Index) map
The NDVI map uses the Normalized Difference Vegetation Index (NDVI) to display nitrogen deficiency on targeted vegetation.
The NDVI index measures the reflection of red and near-infrared light from the vegetation. Biomass levels are shown using a fixed green colour scale. Dark green areas are representing high biomass availability while light green areas are representing low biomass.

With NDVI maps, a difference between healthy and stressed vegetation can be quantified.
However, this feature has a limitation. Especially when crops are growing bigger and the canopy is saturated (highest biomass), the NDVI index saturates, and differences between highest and lowest growth within a field can no longer be recognised.
For this reason, it is recommended to use the optimised map or the N-uptake map to estimate nitrogen uptake at later growth stages.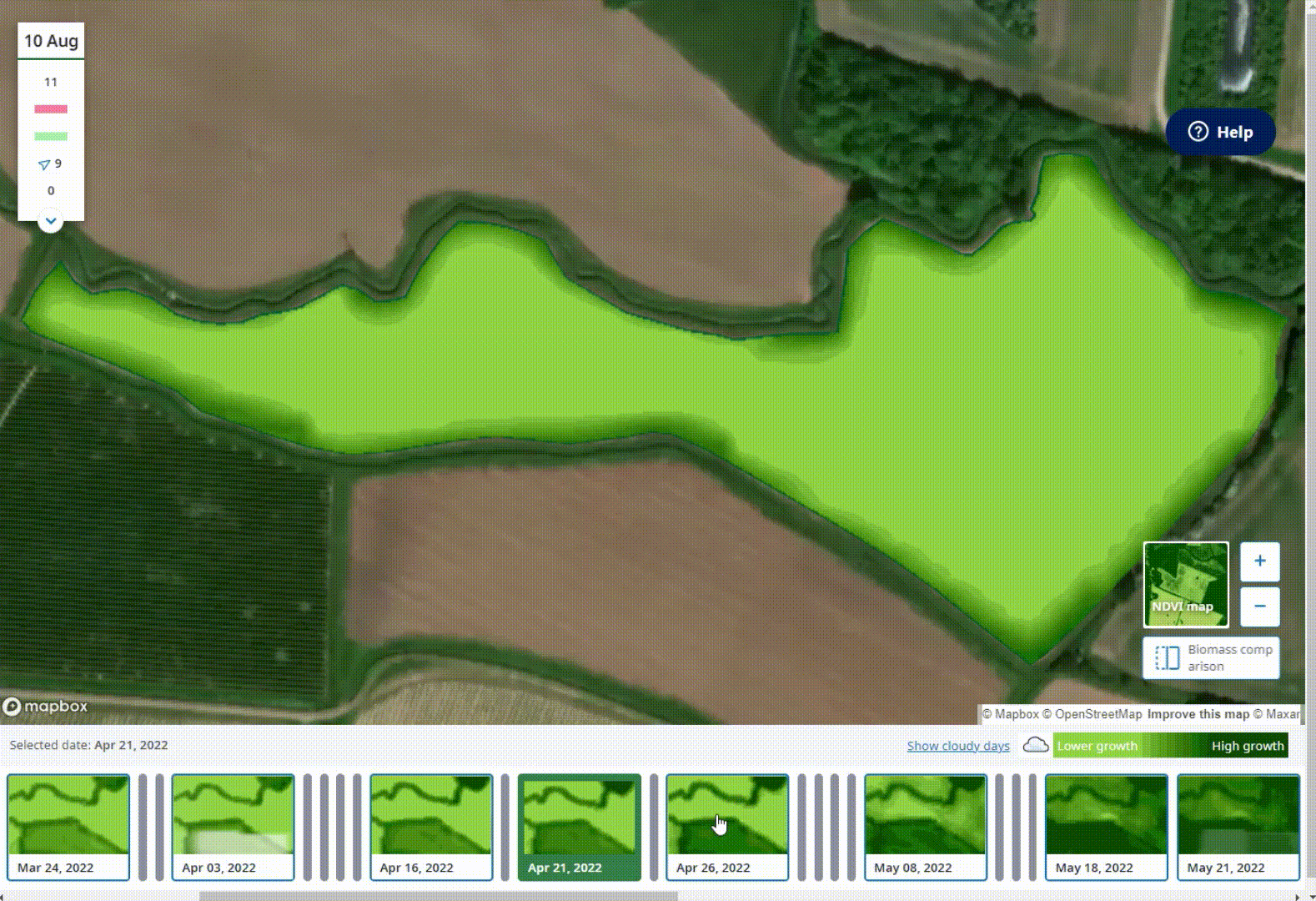 Optimised map (N-Sensor map)
Basis for the optimised map is the data obtained from several years of use of the Yara N-Sensor in the field. The optimised map allows not only to analyse crops and identify differences in nitrogen uptake through the whole growth cycle but also across seasons.
The optimised index is not sensitive to different growth stages or canopy saturation and does not tend to saturate as quickly as the NDVI and has a better correlation to nitrogen uptake. The nitrogen uptake can be estimated for a better vegetation monitoring.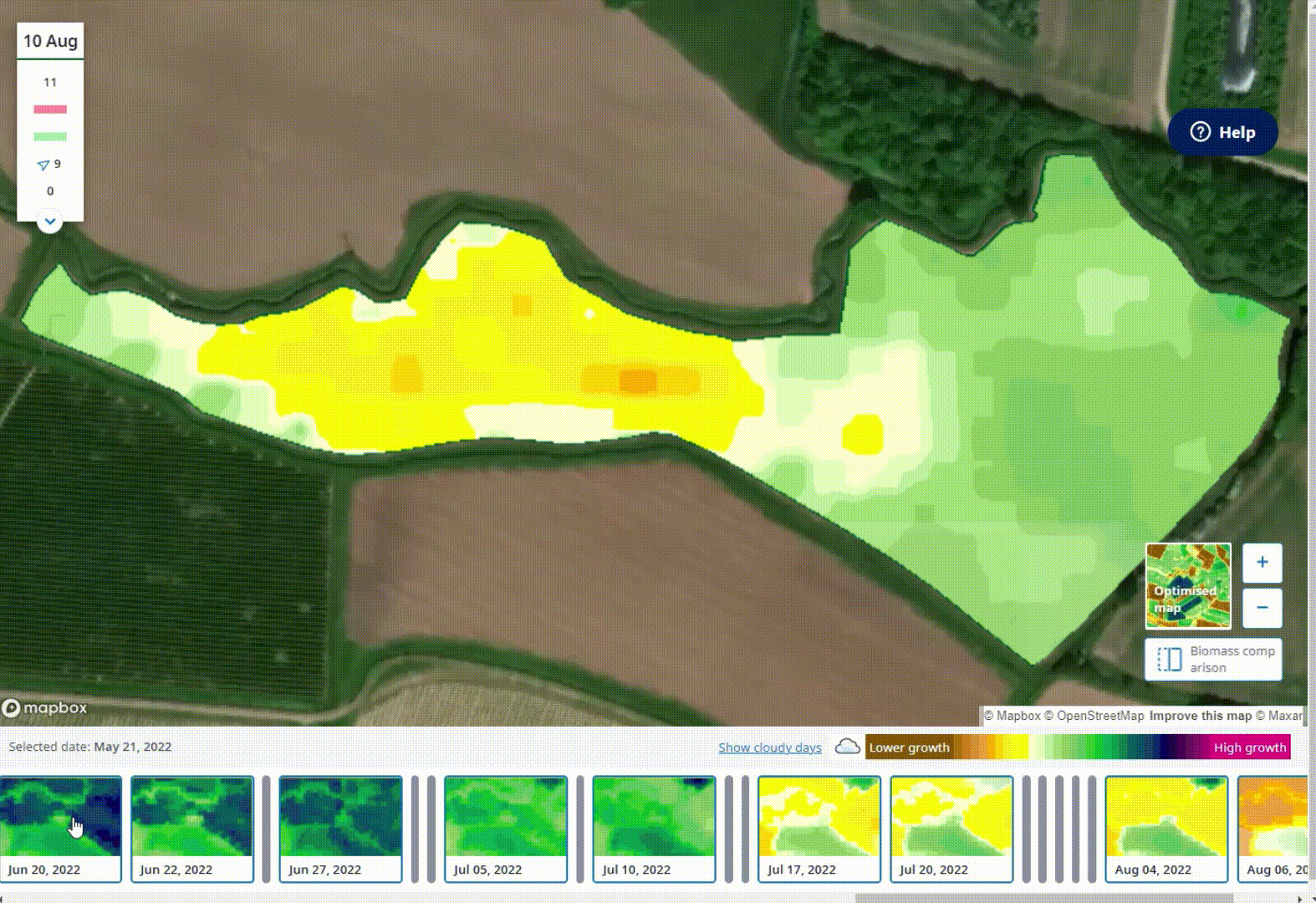 The colour scale is a relative scale without absolute values. The colours adjust based on lowest and highest index values in a satellite image. Low nitrogen uptake is represented by brown tones. A variety of green shades is representing the canopy evolvement. As the canopy evolves, the colour changes to blue and purple shades.

N-uptake map
The N-uptake map indicates day specific absolute N-uptake, where each pixel is associated with an N-uptake value. The absolute in-field nitrogen uptake (in kg N/ha) is calculated from cloud free satellite images.
This makes the N-uptake map ideal for identifying nitrogen uptake variation within a field.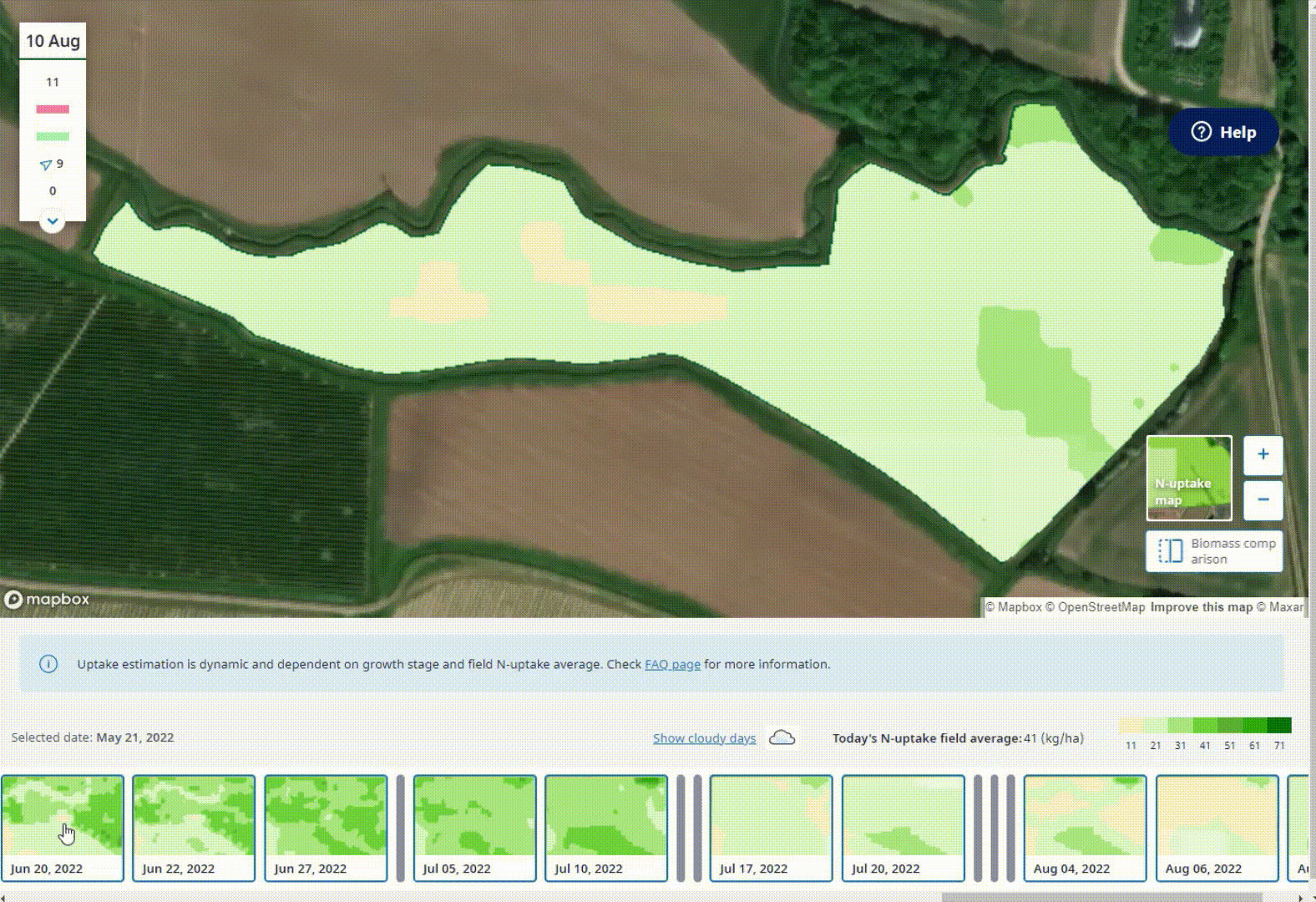 The legend makes use of a colour scale from yellow to dark green and visualises a dynamic scale. Yellow represents the lowest kg N/ha, which is -30 of the daily average, while dark green represents the highest amount of kg N/ha, which is +30 of the daily average.

The N-uptake map is currently available for various crops, where the N-uptake layer is accurate for specified growth stages and less accurate for unspecified ones:
| | |
| --- | --- |
| Crop | Growth stages with high accuracy |
| Barley | Tillering - flowering |
| Durum wheat | Tillering - flowering |
| Grassland | No dependence on growth stage |
| Maize | V6 (6th leaf) - V9 (9th leaf) |
| Oats | Tillering - flowering |
| Oil seed rape | Leaf development (5th leaf unfolded) - flowering |
| Potato | Vegetative growth - first visible flower bud |
| Rye | Tillering - flowering |
| Triticale | Tillering - flowering |
| Wheat | Tillering - flowering |