Supported labs
Currently, we support standard soil analysis from Lancrop/Megalab and their lab file templates (.xls) for United Kingdom. We will continue to add more labs in the future.
Request to add a lab
You can request to add your lab to Atfarm during the soil analysis upload, if it does not appear in the drop-down list to select the lab name.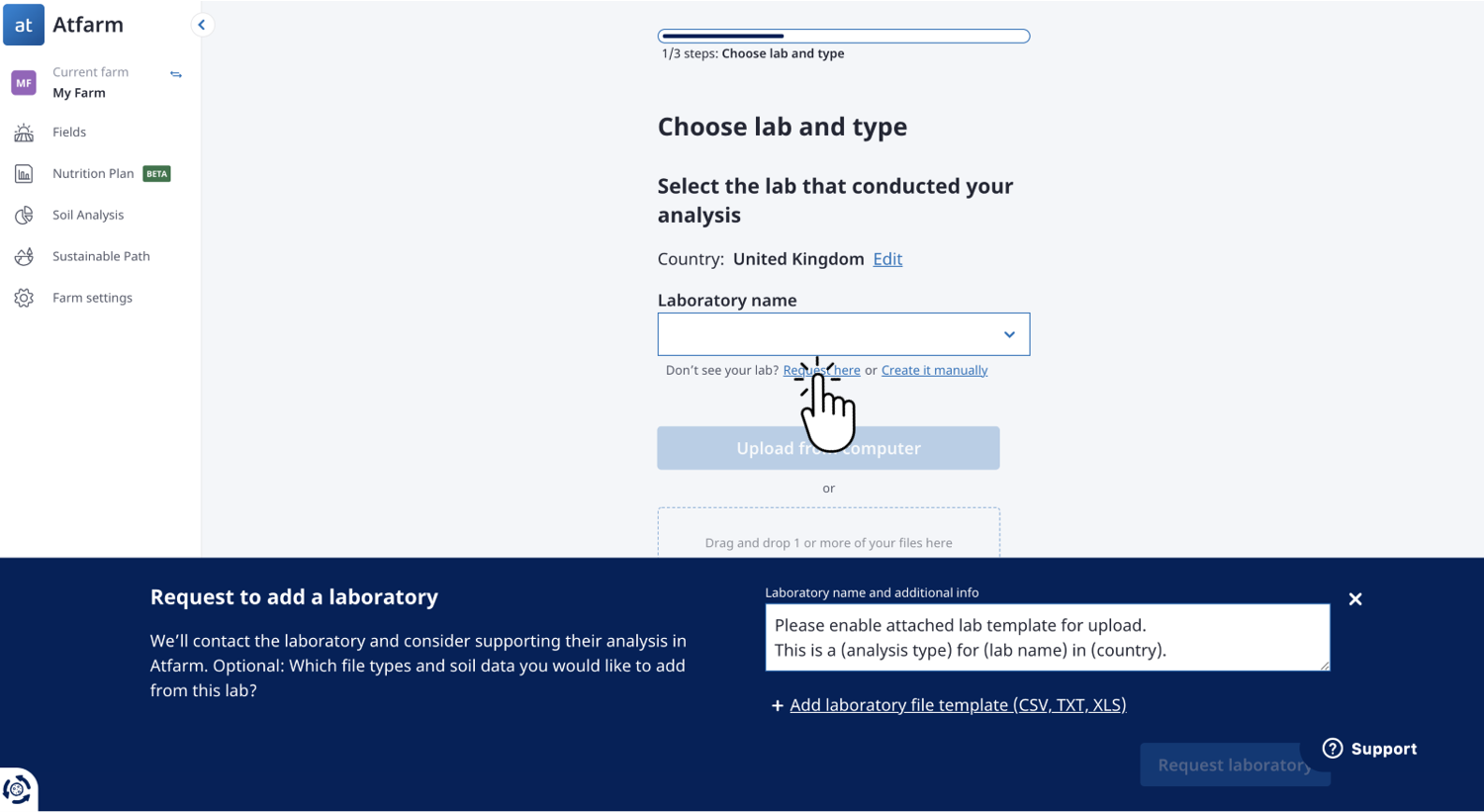 Please enter the lab name and additional information (analysis type, country) in the white box. You can also add lab file templates you would like to be added from this lab. When finished, click on REQUEST LABORATORY. We will contact the lab and consider supporting their analysis in Atfarm.
Compatibility of lab files
Review lab files and correct flagged errors
The uploaded lab file is read by Atfarm based on the template provided by the lab to validate data. If Atfarm detects an error in the file, it flags the error.
An error can be:
The sample data is from the future.
Nutrient values are missing or not read from the file.
Nutrient values are not alphabetical or with special characters.
To correct an error:
In the last step of the soil analysis upload, click on the record.
A window opens to check the details of your analysis. Atfarm marks the incorrect data and advices you on how to correct it. Type in the correct value.
If Atfarm still does not accept the file, please contact our support team and attach the lab file.
Check your lab file
Attached to this article you can find a lab template example file for standard soil analysis from Lancrop/Megalab (.xls) to check, if your lab file matches the required form. Please download the file by clicking DOWNLOAD and save it to your computer.