In Atfarm you can remotely check the biomass status of your fields for free with regularly updated satellite images and various biomass maps to
| | |
| --- | --- |
| | Make informed decisions for your nitrogen fertilisation based on reliable and comprehensive growth information |
| | Identify areas with high growth potential |
| | Identify potential problem areas on time before yields are affected |
| | Recognise crop variability due to weather |
| | Plan next field visits and prioritise areas that require a closer look |
| | Analyse progress and evaluate any new practices or products you are testing |
| | Monitor effectiveness of nitrogen applications and variable fertilisation |
This is how it works:
1) Add your field
Access our free crop monitoring solution both via the Atfarm web app in your desktop browser and via the Atfarm mobile app on your mobile device.
After adding a field to your farm, you can see a satellite image of the field with a biomass layer on it.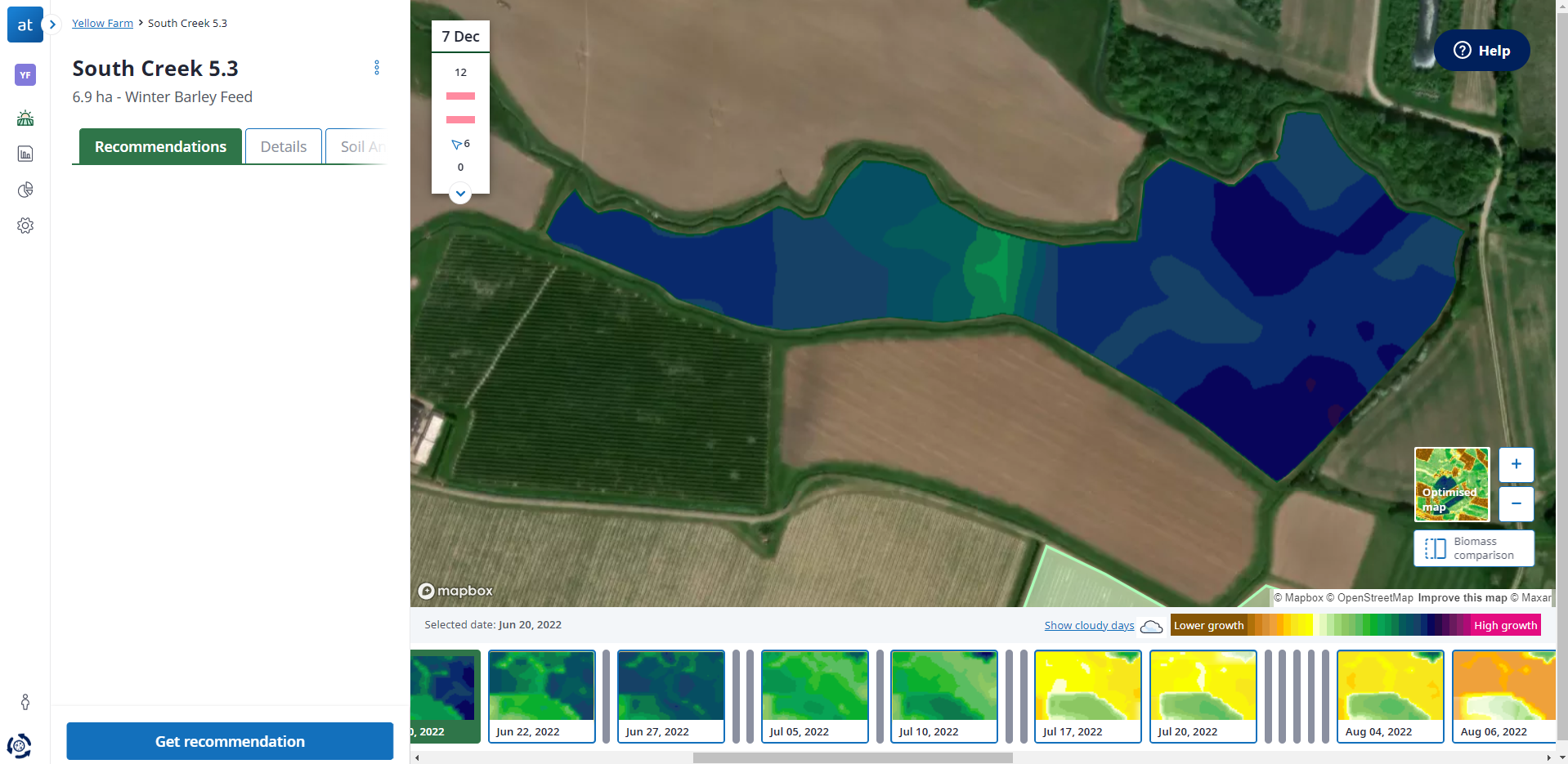 2) Select a satellite image
We use satellite image data to calculate a vegetation index and create a biomass map.
The satellite images are taken every 3 to 5 days by Sentinel-2 A and B satellites of the European Space Agency's Copernicus programme and uploaded to Atfarm. Sentinel-2 images capture the red edge of light making them ideal for detecting changes in vegetation far before your eyes could notice any anomalies.
You can access images from up to 2 years in the timeline below the map and observe the crop development of your field.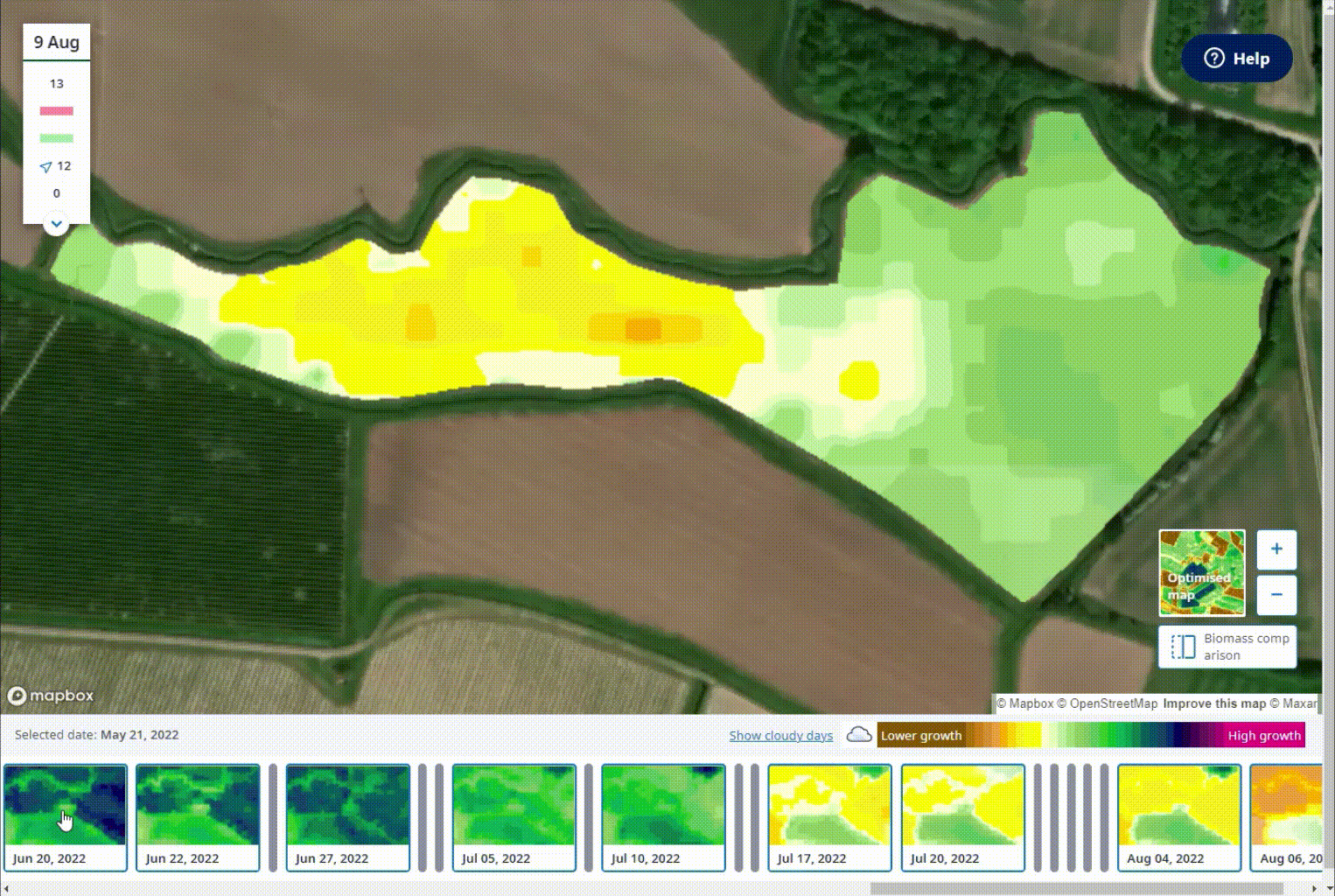 Cloudy satellite images are hidden by default in the timeline as the biomass layers cannot be applied to them and therefore Variable N-Rate Application (VRA) Maps cannot be created with such images. But you can still view cloudy satellite images and check whether they are indeed cloudy.
3) Select field view and biomass map
Click on the map layer tile in the lower right corner of the field map to select different satellite maps and biomass maps.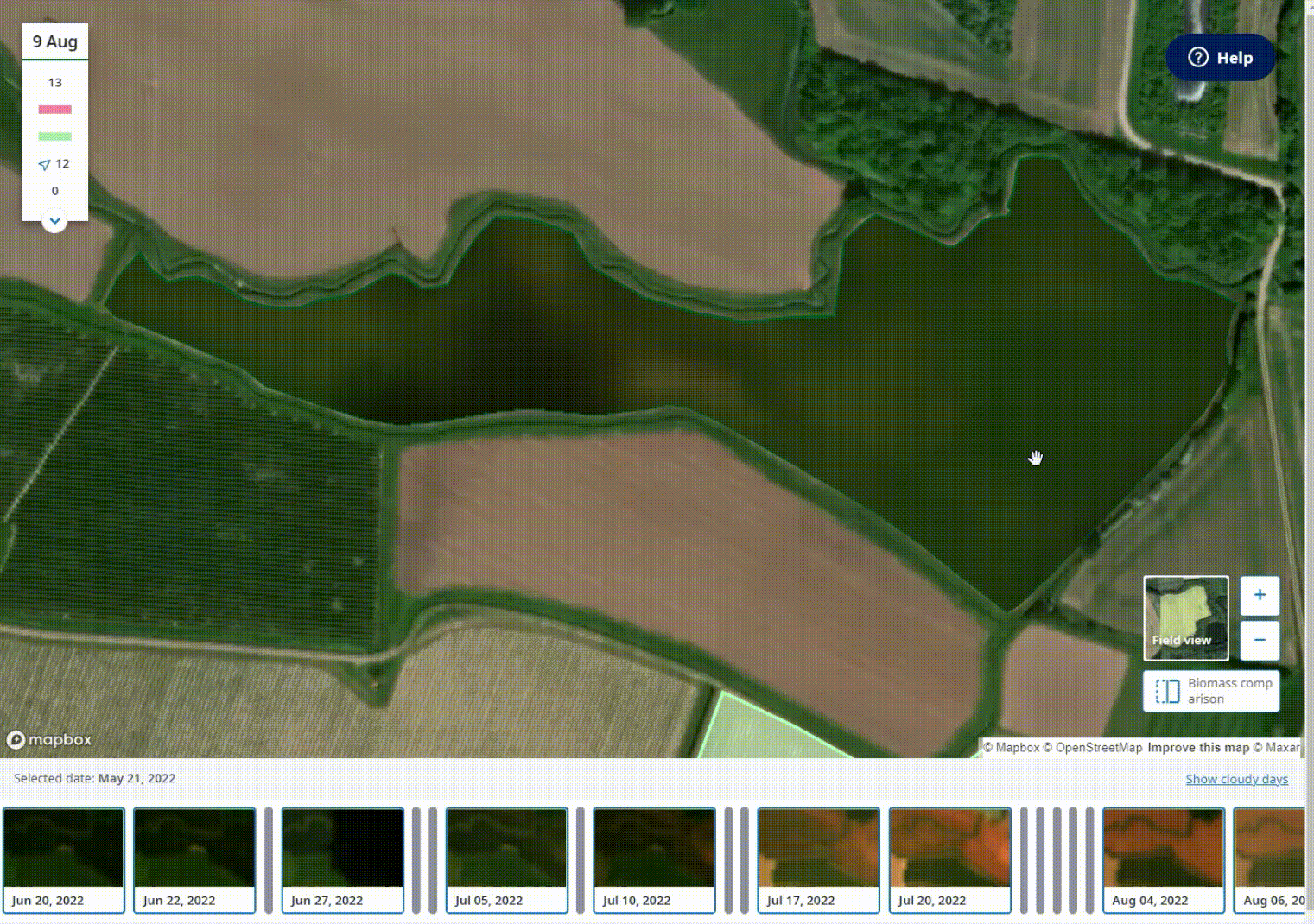 You can select 2 types of satellite maps to view your field: base map and field view. The base map is a high resolution but outdated earth map. It is used to identify field boundaries when adding your fields to Atfarm. In field view you can find the low-resolution but up-to-date satellite images and check the field condition.
You can choose between 3 types of biomass maps: NDVI (Normalized Difference Vegetation Index) map, optimised (N-Sensor) map, N-uptake map. Each biomass map applies a specific vegetation index to a cloud-free satellite image to measure crop health and growth. As a result, you get a biomass map showing the in-field variability, which can be used to plan your fertiliser applications and to create Variable N-Rate Application (VRA) Maps.
Our N-Sensor vegetation index is what makes Atfarm's biomass maps special. Read here how this sets us apart from other tools.
4) Compare biomass
Compare the biomass of your field between 2 selected dates with our biomass comparison tool and benchmark crop development, identify anomalies and discuss possible measures.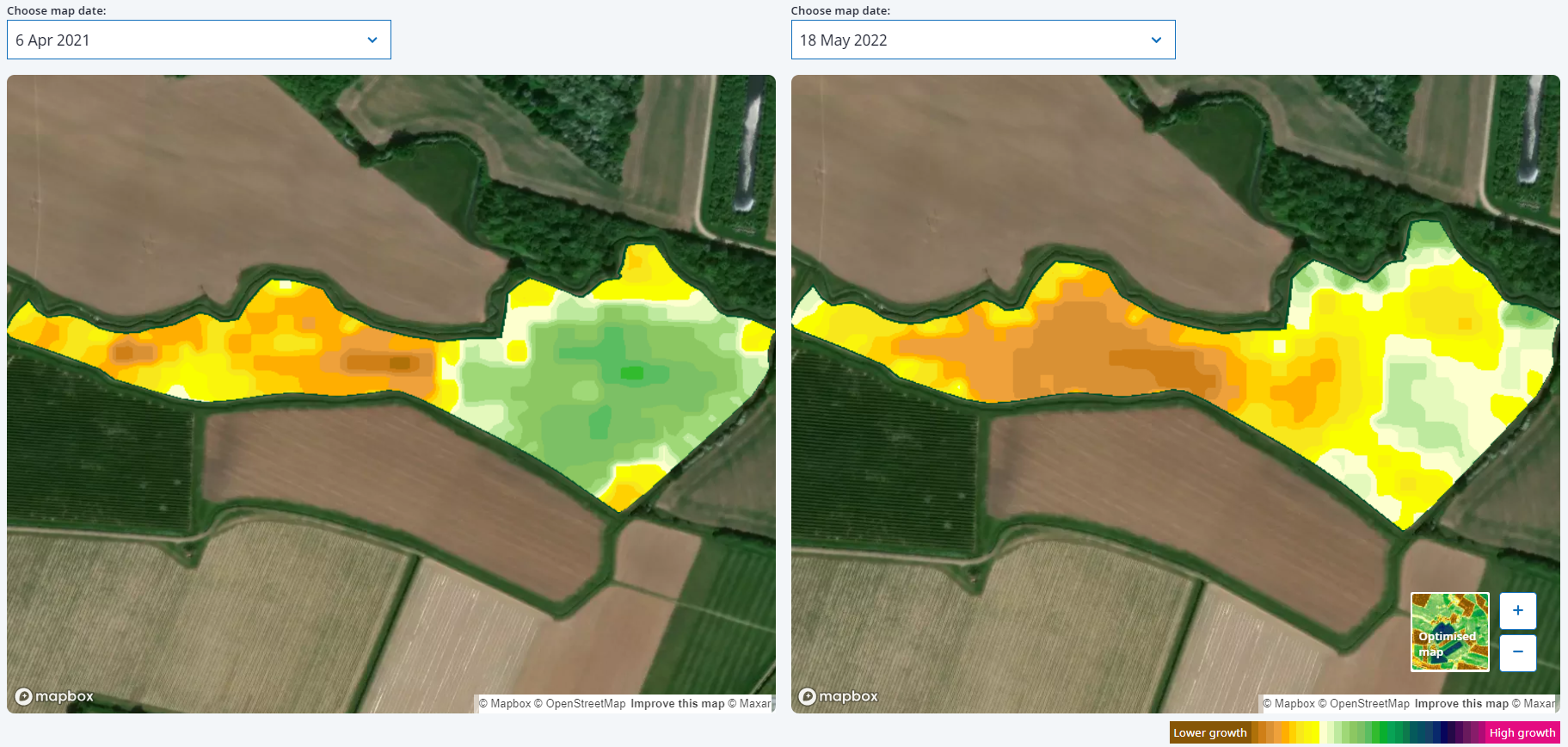 5) Create Variable N-Rate Application (VRA) Maps
Create Variable N-Rate Application (VRA) Maps using our biomass maps and apply nitrogen precisely on your fields to save materials and costs.